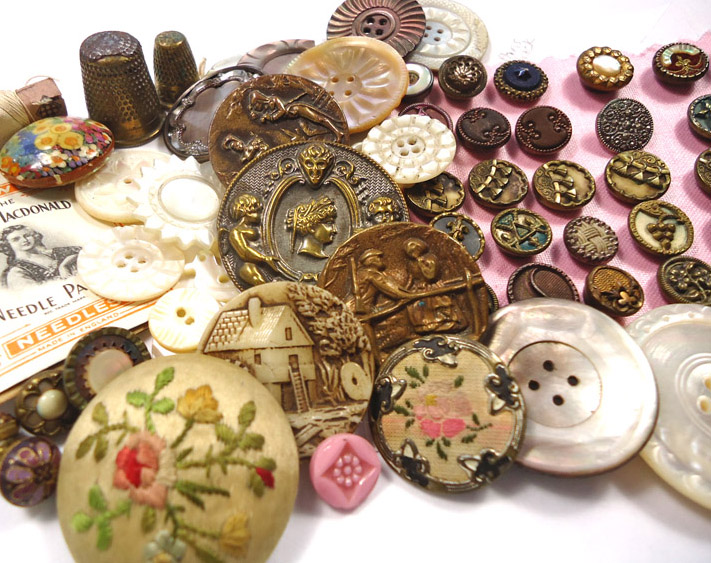 Vintage Button Emporium is based in south west London, in the UK.
From here we travel regularly to Kempton Park and other large antique fairs, as well as auctions all over the country, and even the odd boot fair, in search of buttons. We started as button collectors, then sold a few to make room for more, and now we spend many a happy hour buying, sorting, and listing buttons for sale online.
Once upon a time…
Every household had a button tin. When garments were worn out, the buttons were removed and saved in the button tin, to be used on the next garment or just in case they might one day "come in handy". Then there were the sets of expensive or delicate buttons, which were not permanently attached, but removed for laundry and could be worn on any number of garments.
This recycling of buttons in the past, means there is still a volume of vintage and antique buttons out there. Some of them are a little worn, but many are much nicer than modern plastic ones, and we enjoy the idea of continual recycling …. better for the planet too.
About our stock
We cannot buy these buttons in bulk. They are all one-offs in their own way. When sold, we may never see another one like it. Or sometimes the same design may turn up time and time again. Buy them while you can!
In August 2019, we migrated from another location on the web (same site name). So, to start with, we will be adding lots more existing stock items from the old site, as well as new acquisitions.
There is often a mad rush when new listings appear so please bear with us if you do not get what you want. If two people have the same button in their cart, and one person completes an order and pays for it, then that person will get the button.
The learning curve
We never stop learning about buttons. In the UK, we do not generally have competitions like those in the USA, but at the Emporium we do use the button reference books and hope the descriptions here are relevant for collectors worldwide.
We are also indebted to the knowledgeable ladies at the British Button Society, some of whom have a lifetime's experience of collecting buttons, and have been unfailingly generous in sharing their knowledge with me, and others. I have not yet been to an NBS button meeting in the US but hope to make it one day!
I believe the search for good buttons is getting more competitive. Perhaps Ebay encourages price inflation, or perhaps people are getting more knowledeable. But a button does not have to be expensive to be valued. Some buttons are priceless because of their sentimental value; some will transform a humble outfit into something amazing; some are living tokens from a bygone age; some are examples of a craftsman's art; some are just beautiful.
We hope you will enjoy building your own collection too.
About the website
The technical skills of building a website grew out of necessity as we only sell online, and do not have a shop. This is now our third website, since 2011. It is not an Amazon or Ebay, but we hope it functions smoothly enough for you to enjoy browsing and buying. This version launched in August 2019, is hosted by Squarespace.

A web designer once tried to design a logo for us, but could not get the concept right, so in the end it was hand drawn by us, based on a late 19th century mother of pearl button with an incised pattern, imitating a late 18th century rococo design. If you are a button lover you will know what we mean!